Norland Healthway Vision Capsules.
Main Ingredient: Bilberry extract, grape seed extract, taurine, zinc gluconate, vitamin A, hydrogenated oil, beewax, soybean oil, gelatin, glycerin, water, and vegetable carbon black.
---
Effective Ingredient: Each 100g Contains
Proanthocyanidin 9.48g, Taurine 5.91g, Zinc 1.0g, Vitamin A 60.85mg
---
Contain: 60 Capsules/Bottle.
Health Care Function: Relieve The Eye Strain.
Recommeded Usage: 1 Capsules, Twice a day per os.
Shelf Life: 24 Months.
Net Content: 48g (800mg/Capsules).
Approval No.: GSJZG20080499
NAFDAC REG NO.: A7-2900
Suitable for: People with low immunity Supports.

---
Unsuitable for: Pregnant Women or Breast Feeding Mother and Children Below 18 years.
---

20 in stock
SAY BYE-BYE TO
---
CATARACT GLAUCOMA
MYOPIA
BLURRED VISION AND ALL EYE PROBLEM WITHOUT SURGERY WITHIN 30 DAYS.
---
GUARANTEED! Get rid of your eye glass and eye drop PERMANENTLY Stick with me and read this whole page, and you will get your perfect eyesight back 100% Guaranteed. Remember in the holy book "The woman with the issue of blood suffered for 12 years before getting her healing" God is not dead, he has decided to use this Chinese Award winning Eye Product to do wonders.
VISION VITALE CURES THE FOLLOW
Glaucoma
Cataract
Myopia!
Hyperopia
Eye Strain
Cross Eye
Muscular Degeneration
Astigmatism
Retinitis
Pigmentosa
Blurred Vision
Night Blindness


---
PRODUCT APPROVED BY:
The China Food and Drug Administration ( CFDA)
South African Health Products Regulatory Authority (SAHPRA)
S. Food and Drug Administration (FDA).
The National Agency for Food and Drug Administration and Control (NAFDAC) of Nigeria
---
---
Produced in China and sold in over 45 countries across 6/continent
This highly rated Eye Product is called VISION VITAL. This is The Secret Magic herbal combinations that has helped over 25 million people restore better eyesight till date.
"Vision Vital Capsules" is a Natural and Herbal supplement manufactured in China through Modern Biotechnology under the guidance of Herbal Chinese Medical experts and made from the best hidden herbal ingredients Including White Chrysanthemum, Cassia Seed, Bilberry extract, Lutein and Zeaxanthin etc which has been scientifically proven .
---
---

---
Need Help? Contact Us Leave Feedback
Categories: Glaucoma & Cataract, Health Hygiene, Herbal Supplement
Tags: Buy Vison Vital Capsules In Port Harcourt, Cataract, Cure Eye Problem Permanently, EYE, Glaucoma, Immune + capsules, Immune capsule benefits, Immune plus price in Nigeria, Immune vital capsules dosage, Immune vital capsules price in Nigeria, Immune vital capsules side-effects, Norland, Norland immune plus capsule benefits, Norland immune Vitale, Norland Vison Vital Capsules Capsules, vision, Vison Vital Capsules, Vison Vital Capsules NAFDAC Registration Number, Vison Vital Capsules Registration No., Where To Buy Vison Vital Capsules In Port Harcourt
Leave Feedback
+2348134531236 SEND US A FEEDBACK VIA WHATSAPP
Vision Vitale Capsule has anti-aging benefits, and aids in proper circulation of blood flow to the eye thereby reducing pressure in the eyes.
It is a Chinese herbal supplement from Norland Industrial Group, but now available in Nigeria. This product has approval from Food and Drug Administration (FDA) of China including FDA of other countries. It is also has NAFDAC approval.
Vision Vitale Capsule is also being distributed in other countries including the UK, USA, Canada and in over 50 other countries.
Interestingly, this eye capsule is effective for the treatment of all forms of eye problems including cataract, myopia, glaucoma, vision loss etc.
N/B: VISION VITALE CAPSULES IS NOW NORLAND HEALTHWAY VISION CAPSULES WITH NAFDAC REGISTRATION NUMBER
Benefits of Vision Vitale Capsules
Promotes vision and prevents eye sight loss.
Alleviates eye fatigue and returns clear and shining eyes.
Also takes care of diabetes and eye diseases. It can also can eliminate cataract and myopia
Can cure eye sight loss, macular degeneration and retintis pigmentosa.
Also Prevents eyes from light hurt.
Suitable for: People who have visual fatigue, glaucoma, cataracts, myopia etc
Unsuitable for: None
What is the Dosage of Norland Vision Vitale Capsules?
One bottle of Vision Vitale Capsule contains 60 soft capsules.
For adults, take one capsule twice a day.
One bottle lasts for 30 days.
For effective treatment, use 3 bottles.
For children of 12 years of age and above, take one capsule once a day.
Note: There are no side effects for Norland Vision Capsule.
FREE DELIVERY
Free Delivery For Customers Within Port Harcourt,For Order More Than a Bottle.
---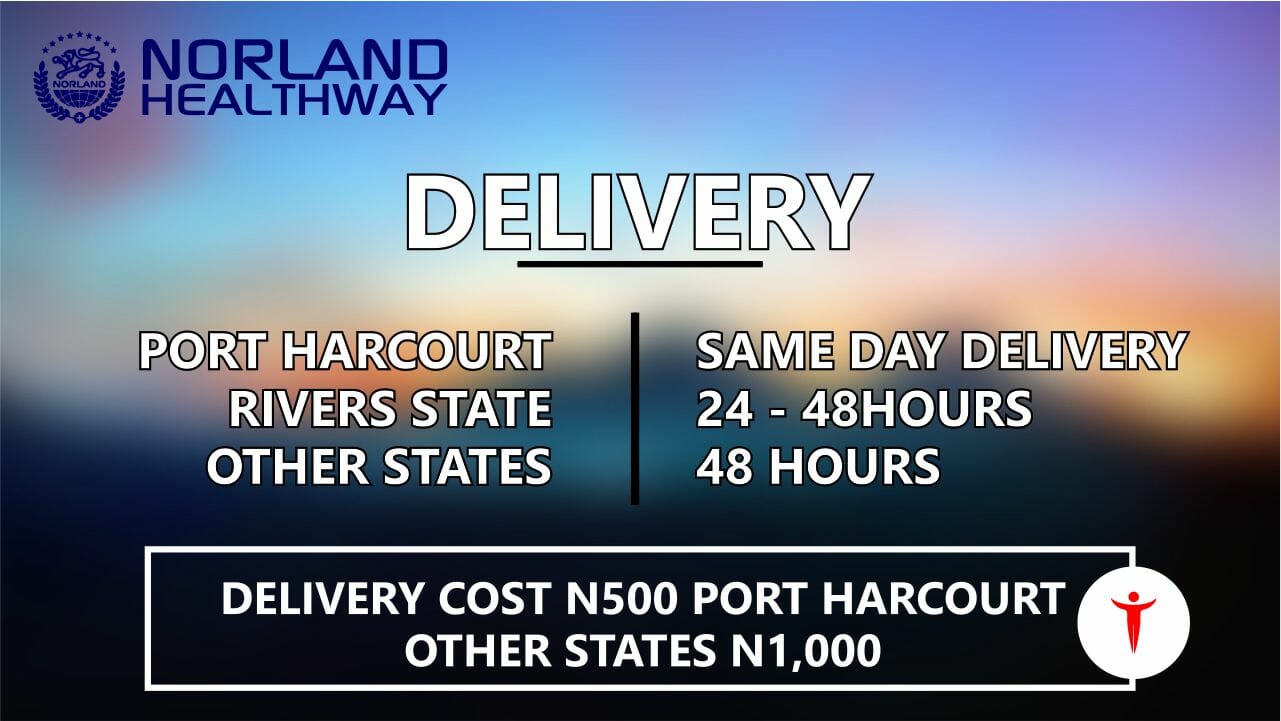 ---